After our wedding and ceremony, Mr. Bolsh and I dashed through the sparklers to our pedi-cab where we were taken through the city in a bike powered cab. We arrived at our hotel room very late, took a three hour nap before catching our 6am flight to Houston, Texas. Luckily, our baker,
Sweetpea Bakery
, supplied us with breakfast treats. We then took an hour and half bus ride to Galveston, Texas where we waited in line for over 2 hours before entering our beautiful balcony room to start our 7 day Caribbean cruise on Carnival's Conquest.
This is what our cabin looked like: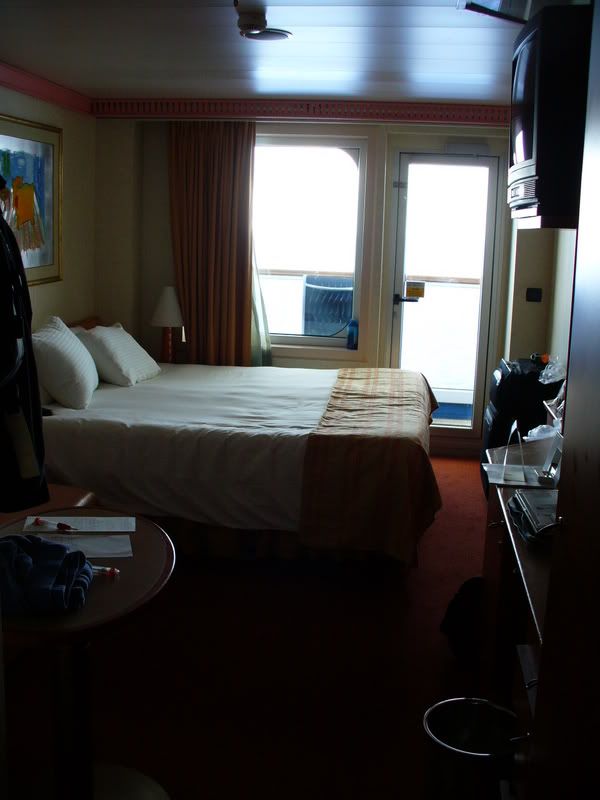 The View:
Of course, this is about food and not our trip. We had a great time on every island we visited. Now onto the food.
I had contacted Carnival prior to our departure to make sure we had vegan food. They tried to assure me there would be vegan food for us and that we should just speak with our wait-staff when we got on board. I wasn't very happy with that solution and was preparing to eat pasta with condiments and lots of fruit.
We packed an entire suitcase of junk food. Mr. Bolsh and I have sweet tooths so most of our food was cookies and candy. We must have been the only people who brought food on a cruise!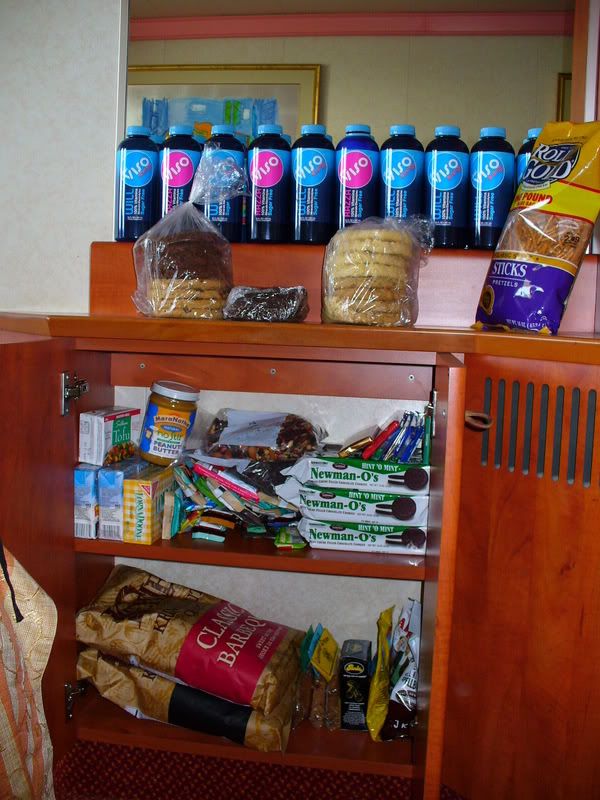 The first night of food was a salad and a baked potato. The hostist introduced herself and asked about our needs and showed us a prepared vegan menu. We approved our breakfast, lunch and dinner for the next day, all of which had more hope for the boring salad and dry baked potato of the evening.
Breakfast was boring oatmeal and fruit, but it was good enough. Later it was blueberry pancakes once they found out that's one of my favorite breakfasts.
Lunch was grilled onion and peppers on a hot dog bun.
Food photos in no particular order:


"Burrito" with a side of Salsa and Guacamole:
Simple, but good.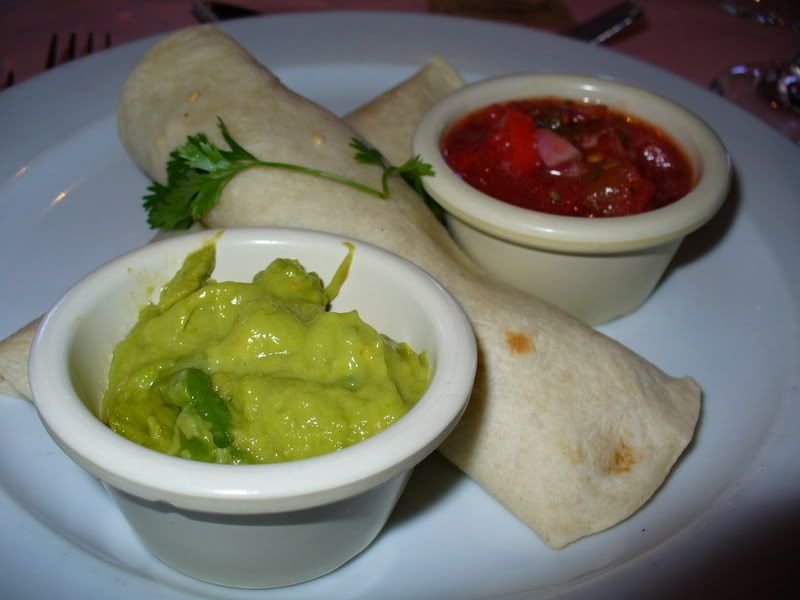 Tomato Soup: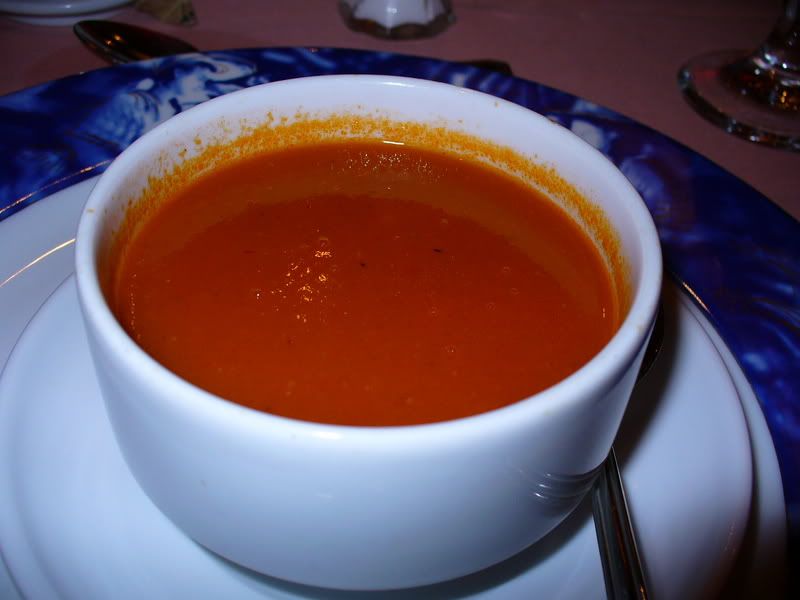 Salad with Italian Dressing: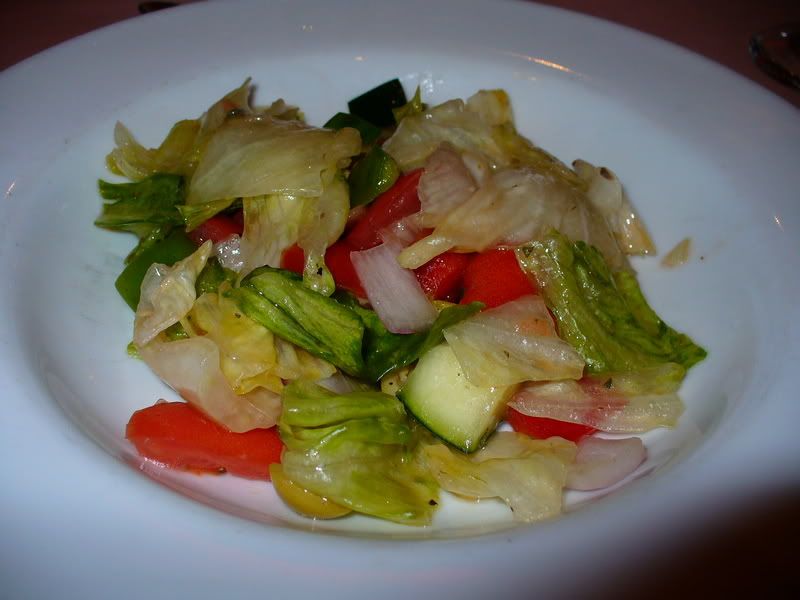 Pasta with peas and plain tofu:
We thought this soft, plain tofu was microwaved. They only served us tofu one other time, covered in BBQ sauce. It was no better.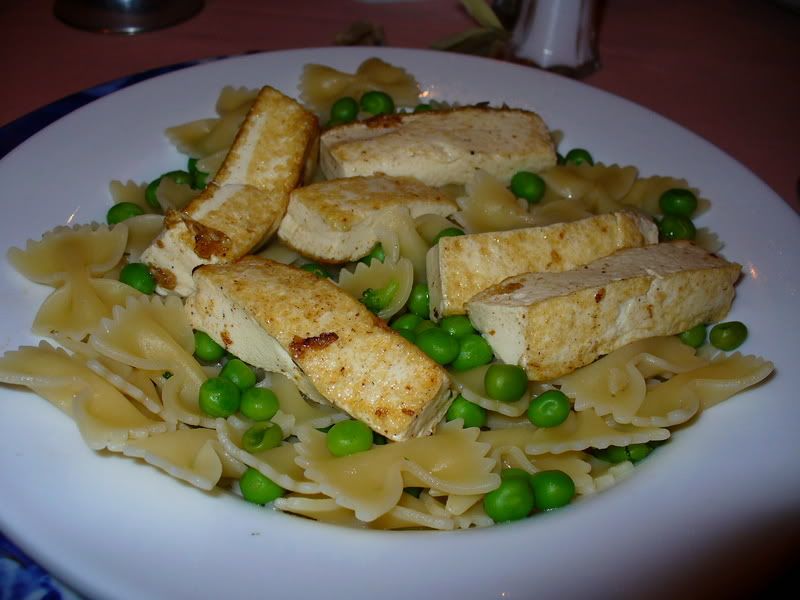 Black Bean Burger: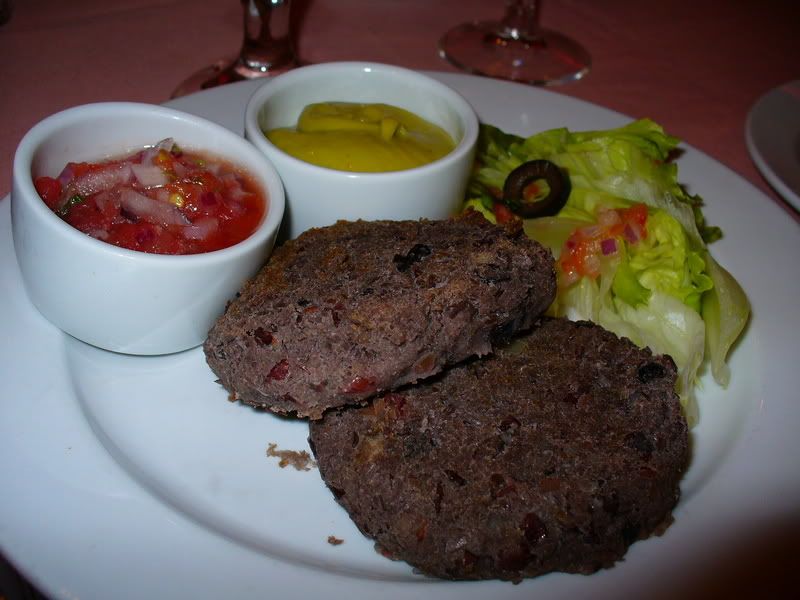 Coconut Rice Pudding with Berries:
This won my favorite dessert award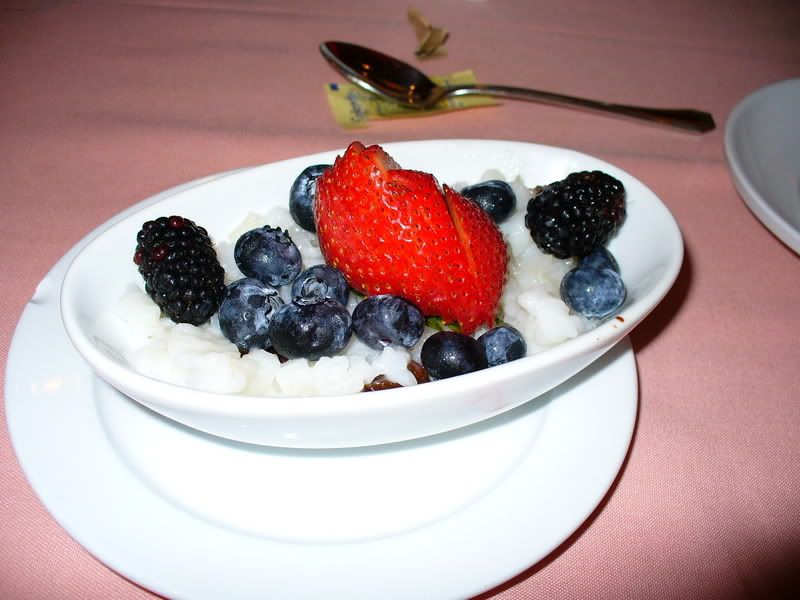 Breakfast was often Blueberry pancakes and fruit:
Vegetable Soup: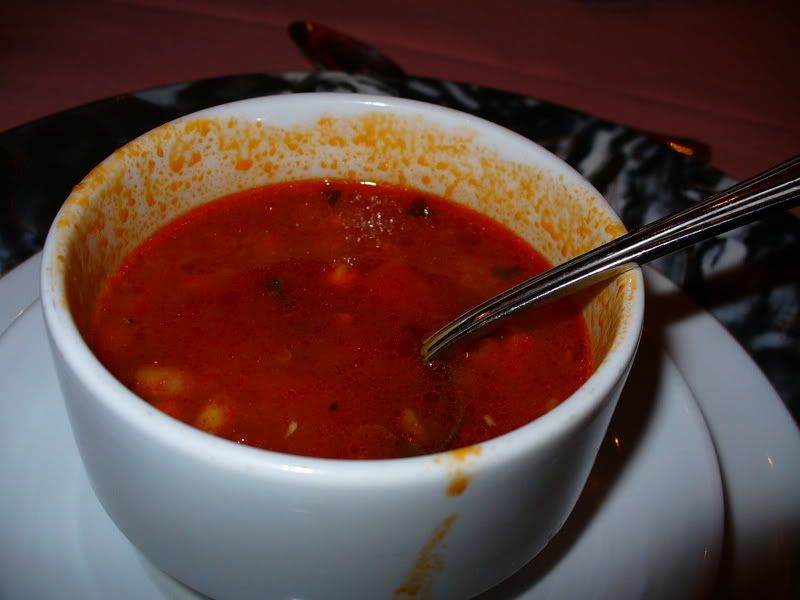 Black Bean Soup:
Fruit Struddle:
Soggy and not my favorite.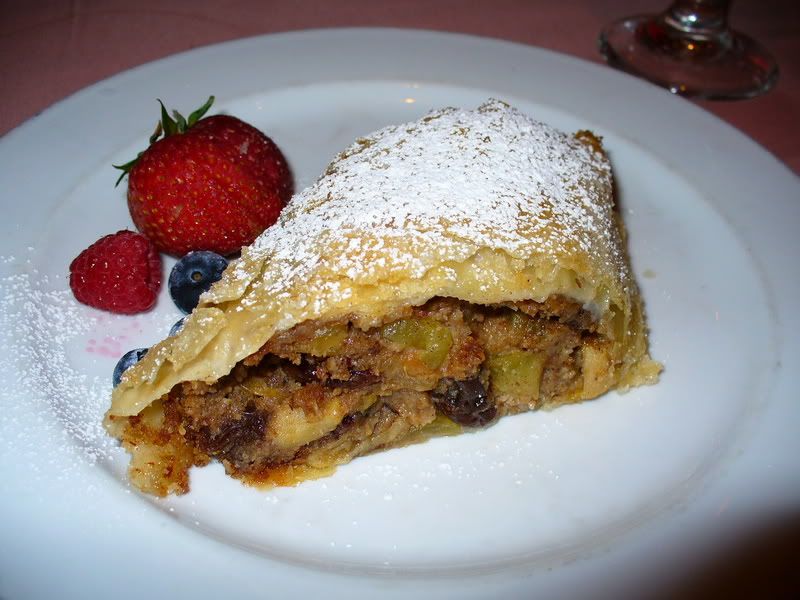 Pasta:
Dinner Salad:
Herbed Polenta:
This dish could have been terrible, but it was fantastic and served with a side of sauted mushrooms and another of spinach.
Dinner Salad:
I must say that some of the saddest salads I've ever had have been on this cruise.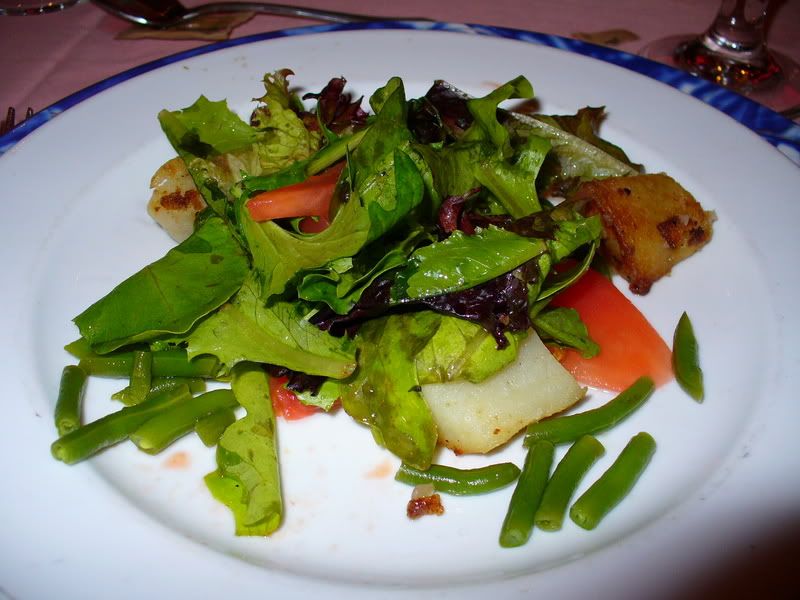 Corn Chowder: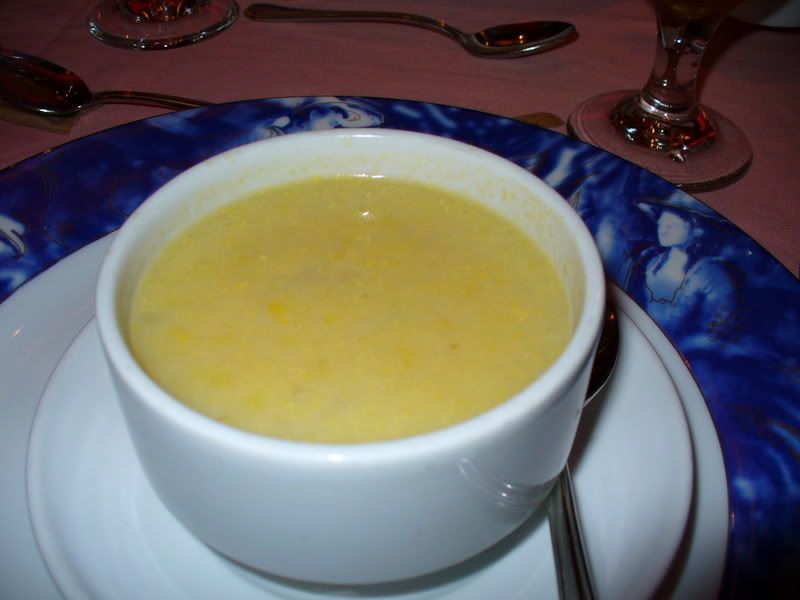 I forgot what this was called but it seemed like left over veggies rolled in tortillas, deep fried, cut into pieces. Then, served with a side of pureed peas: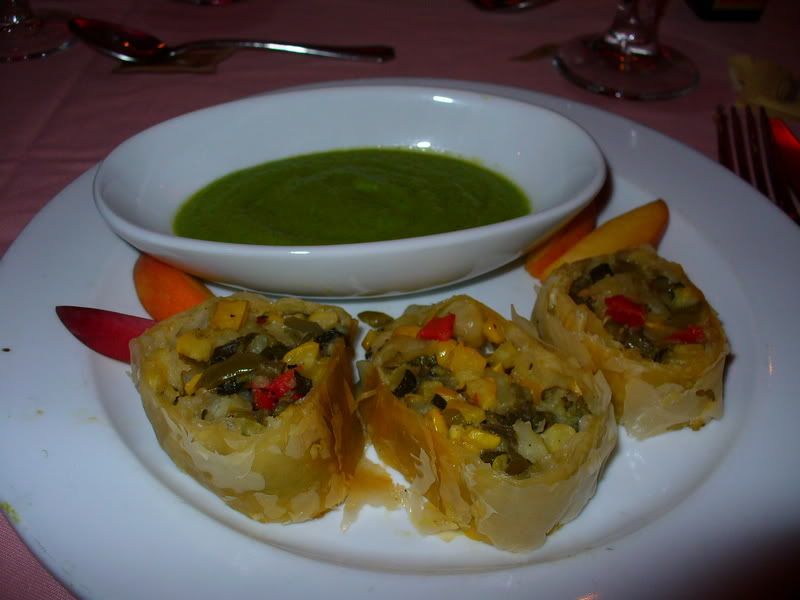 Creamy Pasta:
The Chef and Webly:
I don't think he really wanted his photo taken with me, or anyone else.
Non Main Dining Room Food:
We checked out the sushi bar:
We found the coffee shop with soy milk: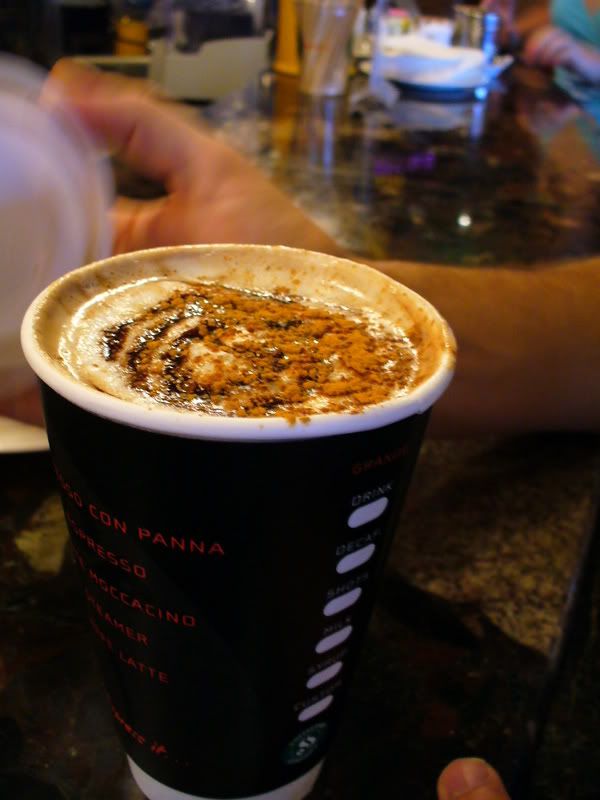 Buffet: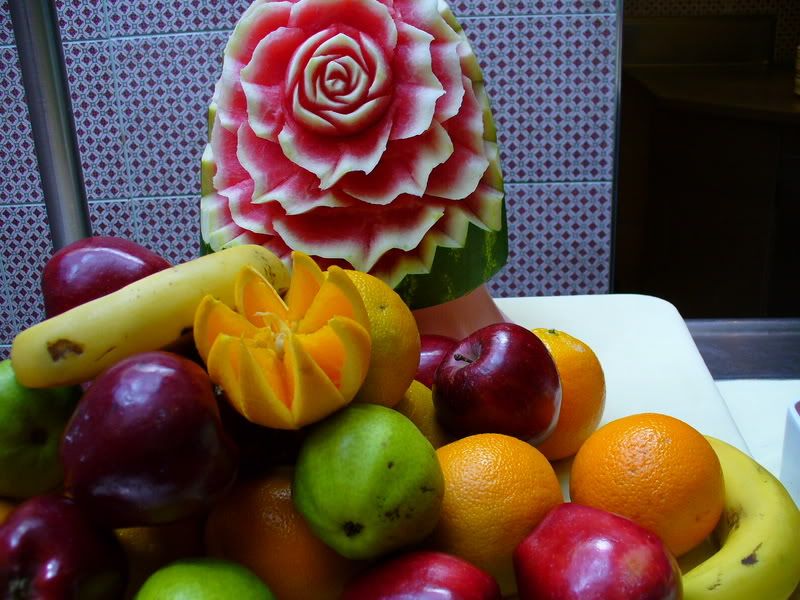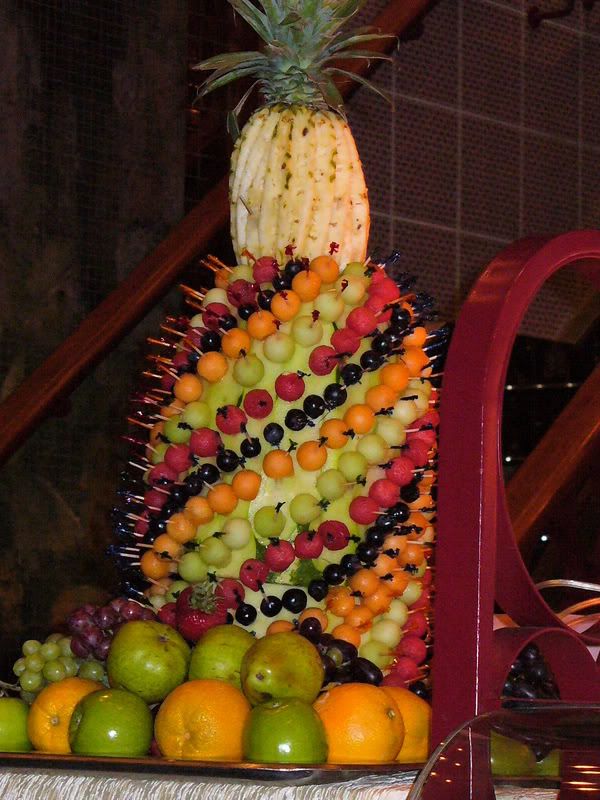 Left over polenta with herbs, glass noodles and vegetables, and watermelon: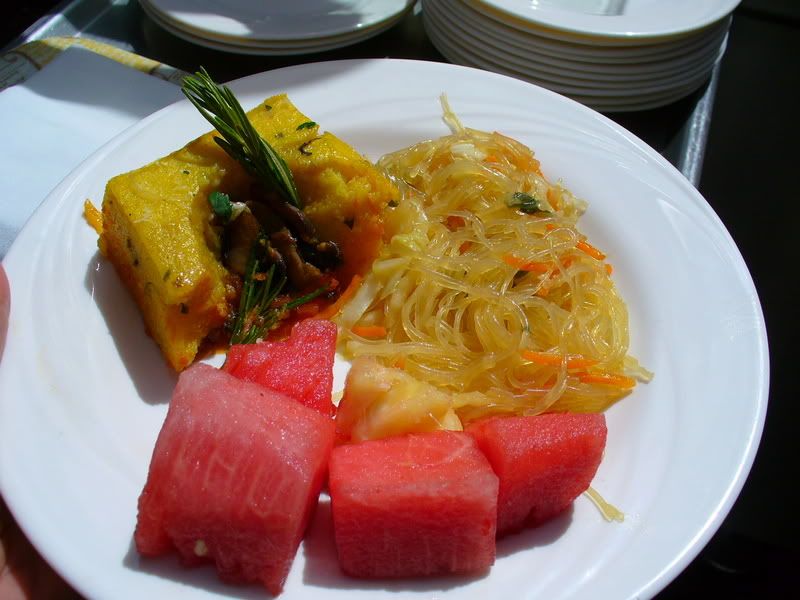 Drinks:
What do you call an alcohol-free, dairy-free drink? I don't know but it seems like the begining of a joke.
We found the 24 hour Pizzaria!
The food was hit and miss. Most of it was good, if not great. I give them a lot of credit for trying. I would encourage other vegans to travel Carnival without fear. There's no need for an entire suitcase full of junk food, but it sure was nice to have some vegan baked goods! We're headed up to Alaska next year for a family cruise. We will be taking more
Sweetpea
cookies for sure and those little cartons of soy milk came in great for quick breakfasts with their boxed cereal.
Love,
Mr. and Mrs. Bolsh